Winter Sale
-10%

Discount code:

10promo

All equipment: -10%

Configure


SMART LED Mirror

Watch movies, listen to music, check the weather or world news and more.
Configure your dream Smart LED Mirror.

Configure


Bathroom Cabinet

Choose and configure a Bathroom Cabinet with a LED illuminated mirror.

Practical space - decide on the color of the decor and match the cabinet to your arrangement.

Buy now!
Choose a mirror finish style
PremiumLine

Our premium LED mirrors are designed for people who want precise lighting for their face, and high clarity. Thanks to the solid mirror frame, available in 19 colours, light shines in one direction only, without creating the effect of wall reflections. The clear contour of the frame gives the room a dignified and expressive feeling.

Configure

SlimLine

This is the perfect compromise between sophisticated delicateness and a more expressive design. This version is equipped with a delicate, light transmitting casing. Lighting is directed at the person looking in the mirror, but at the same time also casts a soft glow on the wall. This creates an amazing feeling of spaciousness and depth in the room.

Configure
Smart Illuminated Bathroom Mirror LED Lighting

Practical accessories

The mirror can be fitted with optional accessories. You will find useful gadgets such as: a touch switch, LED watch or cosmetic mirror, built into the mirror surface.

Be smart

Watch movies, listen to music, check the weather or world news, and more. Configure your dream Smart LED Mirror.

Buy now

Sarah Smart Bathroom Cabinet

Practical space

Openable cabinet front - With the LED mirror cabinet, you'll have a practical place to store your accessories.

Multiple housing colours to choose from

With a choice of cabinet colours, you can easily match the decor of any bathroom.

Buy now

Round Iluminated LED Bathroom Mirror

Practical accessories

The mirror can be fitted with optional accessories. You will find useful gadgets such as a touch switch, LED watch or optional cosmetic mirror built into the mirror surface.

Enjoy a unique character

The delicate shape of the mirror will bring lightness to your bathroom, and thanks to their decorativeness, you can create a unique atmosphere. Modern LED lighting casts a glow on the wall, displaying the mirror in an amazing way.

Buy now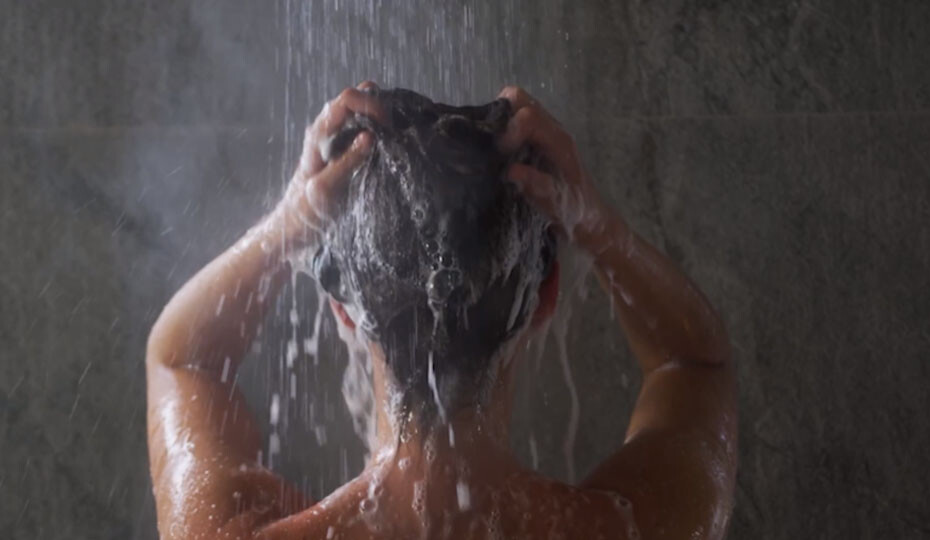 Why Artforma?
Choose an established European manufacturer that has been in the market for over 20 years. Each mirror is a separate story - thanks to a developed system of configuration, we allow our customers to customize the product to their liking. Decide on every element of your order and transform your interior with a mirror for the 21st century. Choose the size of your bathroom mirror, select smart accessories and enjoy the moment, relaxing while taking a bath listening to your favorite tunes, watching movies or listening to valuable podcasts.
#Artforma_com
Mirror installed? Add a photo with the hashtag #Artforma_com to be among the thousands of satisfied customers!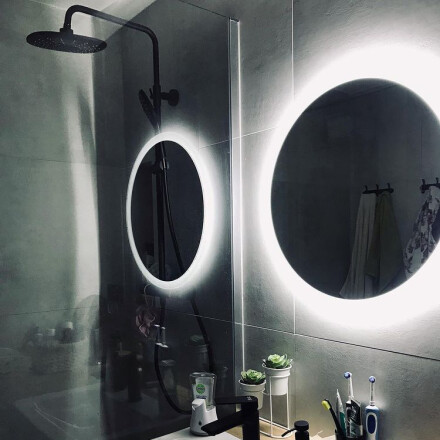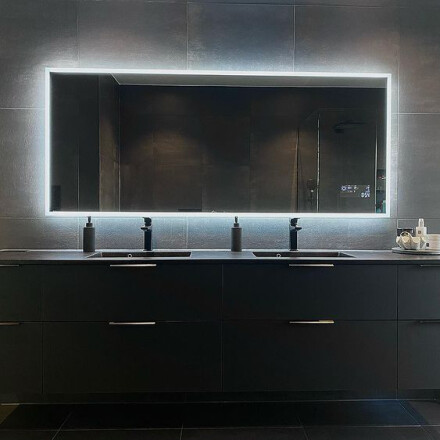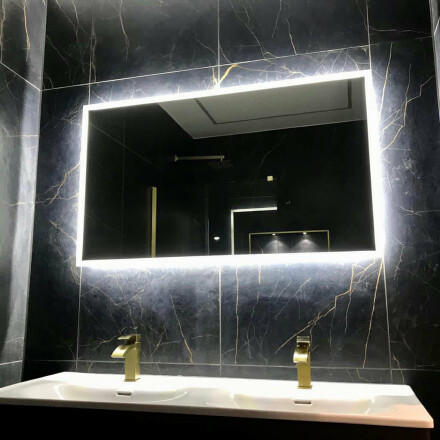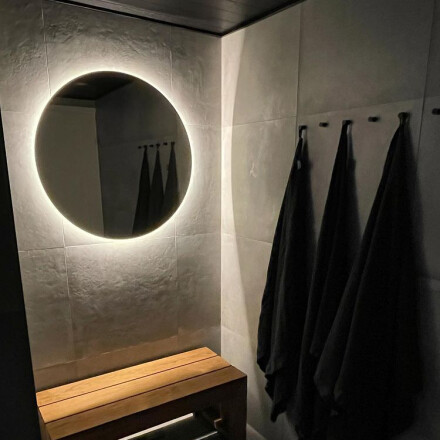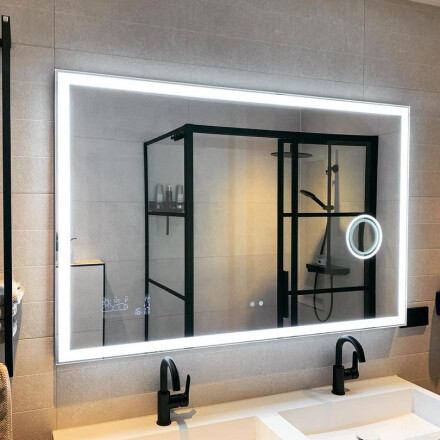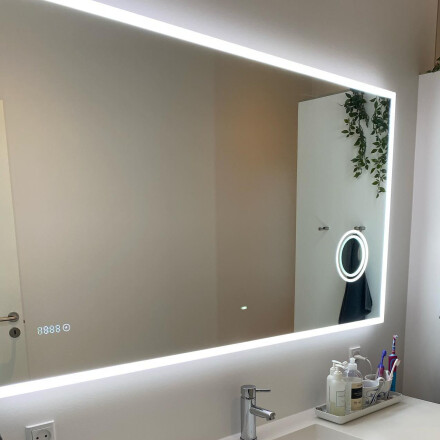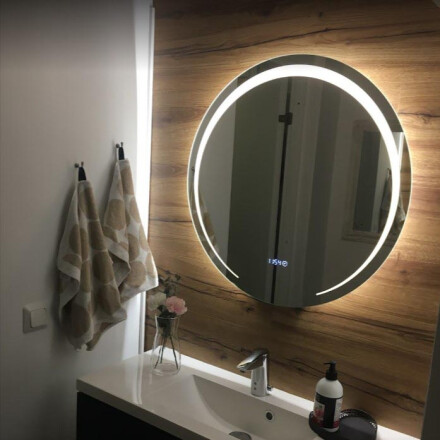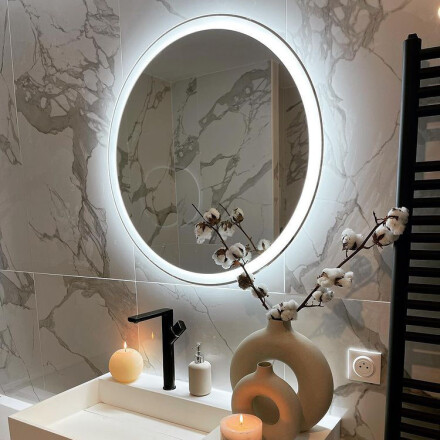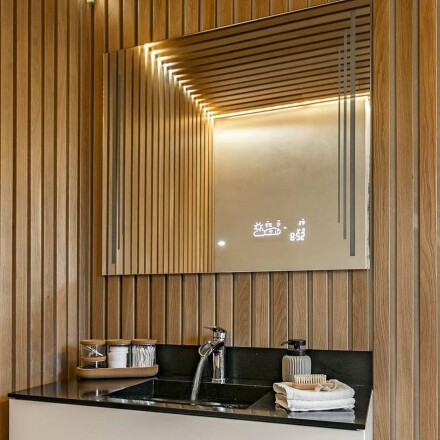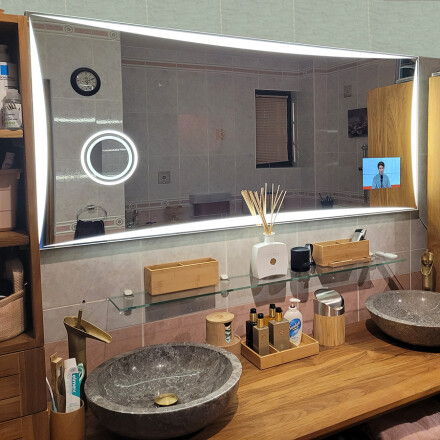 Bathroom mirrors
Bathroom mirrors are one of the most important pieces of equipment in any bathroom. To make them as functional as possible, it is best to bet on illuminated ones! LED illuminated mirrors are an aid to performing daily grooming tasks. They work perfectly for both make-up and shaving. No more lack of good visibility. From now on, any make-up will be done with precision and shaving will be easier than ever before.
LED mirrors are the perfect energy-efficient solution
LED lamps have a long lifespan and are eco-friendly. They contain no toxic materials and you certainly won't burn yourself with them - they produce a lot of energy but little heat.
Mirrors with LED lighting are extremely economical. LED bulbs last up to several years and draw much less electricity than regular bulbs, making them much cheaper to operate.
A bathroom mirror with LED lighting adds a whole new quality to your morning routine!
Bathroom cabinets with mirrors
When you have a small bathroom, every storage space is at a premium. Bathroom cabinets with mirrors are ideal in such rooms!
Two in one - bathroom mirror and storage for your most needed cosmetics!
The LED illuminated mirror mounted in the cabinet is perfect for daily grooming. Use it to illuminate your face and create the perfect make-up. The 39,4" long by 27,6" high cabinets fit into most bathrooms, and will solve the problem of lack of space.
Additional accessories
A modern LED mirror can be enhanced with a variety of additional accessories to make everyday life easier and more enjoyable.
A bathroom mirror that doesn't steam up? Yes, it's finally possible! We designed our LED mirrors for those who are tired of poor visibility and fogged up mirrors.
Checking the time and weather will make planning daily outings easier.
The mirror clock will make getting dressed for the time of your choice easier than ever before.
Cosmetic mirror, Bluetooth and Smart Add-ons as mirror accessories.
Enjoy your smart LED mirror uninterrupted!
For every size and shape
Looking for the perfect mirror for your home? That's perfect, you just found it! How can we be certain? Our mirrors are made to any size and shape.
A mirror with LED lighting saves energy and money, and will last you many years without fail. Elegant, modern mirrors will add character to your interior. They are definitely worth betting on!
The variety of sizes available in our mirrors is a guarantee that you will find a mirror tailored to your needs! There are classic sizes perfect for the bathroom or living room. As well as more elongated shapes for the hallway, or anywhere you would like to have a mirror. Choose from the following sizes: 31,5" x 25,6", 27,6" x 19,7", 35,4" x 23,6", 39,4" x 23,6", 39,4" x 31,5".
The shapes of our mirrors can be whatever you need them to be! Round to keep up with modern trends and soften sharp edges, or rectangular for those who love classics and elegance.
Read more